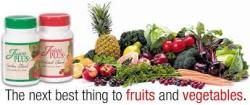 (Excerpt from Roz Mignogna RealfoodFamily.com Blog. Full article found here)
This is a convenient way to add a wide range of real vegetable and fruit nutrition to your daily diet, which means hundreds of beneficial phytonutrients like vitamins, minerals and anti-oxidants.

Most people simply cannot and do not eat the recommended amounts of fruits and vegetables every day. Juice Plus+ basically takes 17 vegetables, fruits and a small amount of gluten-free grains (oat and brown rice- adding fiber which is needed to absorb the plant nutrition), and dehydrates them slowly at a temperature that maintains their enzymatic properties, then encapsulates the whole food powder that remains after all the water is removed.

Juice Plus+ has an impressive list of clinical research to back up their product. the data showing the absorption rate and beneficial results from the anti-oxidants in Juice Plus+ is impressive…something that most anti-oxidant supplements have a hard time proving.
**If you want to get set up with the FREE Juice Plus+ for kids, contact Nicole to set up your account
Sign up Here