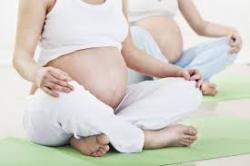 Pilates and yoga are one of the best things for a healthy mind and body, and for moms to be it doesn't have to stop during pregnancy. Mindful exercise has been proved to contribute to an overall healthier pregnancy and birth experience. By using gentle exercises and poses that are designed to strengthen, add flexibility, plus stamina pilates and yoga can work wonders.
According to the Mayo Clinic, a 2012 study found that prenatal yoga can help to prevent complications during pregnancy, and those who practiced for one hour, three times a week were less likely to have low birth weight babies, pregnancy related diabetes and high blood pressure. The benefits are endless, so get that baby bump on the mat for an overall healthier pregnancy experience.
Due to changes in posture and weight distribution, as pregnancy continues women can experience a loss of balance, low back/pelvis pain, fluid retention, leg cramps, and varicose veins. Yoga and pilates naturally address these issues. Strengthening the core combats low back pain, and the movement of legs and hips helps alleviate many of the not-so-fun side effects of pregnancy. Additionally, a strong core is crucial in pushing during delivery.
Breathing is a key focus when practicing pilates and yoga, and those same patterns can be highly beneficial for pregnancy and labor. Good air exchange is important for the health of the mom and the baby as it grows. And as the baby develops stiffness in the upper back and ribs can result in shallow breaths for the mom. Many exercises help open up this area, releasing tension. Controlled breathing is also a very important aid during labor.
The anticipation of becoming a parent and the every day stresses can affect the overall pregnancy experience. When pregnant it's important to carve out a few hours a week for self-care. Pilates and yoga are great ways to relax and reflect on the present moment and the physiological changes in the body.
By staying in shape during pregnancy the recovery time of childbirth and post-partum side effects are highly reduced. At Align Pilates Center you will find quality classes to only enhance the pregnancy experience, ease in childbirth and recovery, creating an overall healthy mom and baby.