Cherie Adame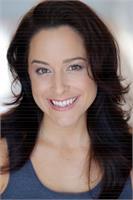 Certified Pilates Instructor
Cherie is an energetic professional who has been dancing for 30+ years. She trained in Pilates with Diane Diefenderfer at the University of California, Irvine. Graduating with a B.A. in Dance, she continued her career professionally as a dancer, acrobat and aerialist performer. She has toured and worked nationally and internationally. Cherie received her comprehensive and mat certification in 2009 through the BASI program. In 2011, she added her certification for Pre/Post Natal Pilates. Utilizing Pilates has helped her aide in Physical Therapy offices around Orange County. She is excited teaching all ages from kids to the mature client. She uses her knowledge of the body, movement and flow to help clients achieve their fitness goals and encourage them to a healthier, happier, stronger, more flexible lifestyle that is Pilates.
Cherie Adame instructs the following:
A healthier twist on happy hour at the bar, this is an all level Pilates equipment class offered at a special price. All equipment may be used, and modifications may be given to challenge all levels. Cheers!




A pilates equipment class open to all levels and abilities. Modifications and advancements will be given to help each client work at their ability and challenge level.




Get the best of both worlds in one class! This class incorporates the pilates principals of core and alignment with flowing yoga postures. The perfect combination to build power, increase strengthen, and get a deeper stretch for the entire body. Intermediate level.




A Pilates mat class for levels 1 and 2. This class will build upon the foundations of alignment, core function, and stability. Expect more progression and flow to up level the workout. This class is suitable to those who are beginning pilates, to taking their practice beyond the basics.




A Pilate group equipment class for ages 12 to 16.




Join the Align team as they guide you through the fundamentals of Pilates mat repertoire. Gaining a full body workout. All levels welcome!




Kid Core Fall 2017 is a 6-week course meeting on Wednesdays at 3:30. A fun and inviting environment for your kiddo can learn about core strength, flexibility and body awareness.