Alex Durham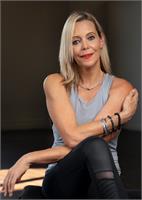 Certified Yoga Instructor
A London Native, Alex came to yoga because it helped slow the constant inner chatter in her mind. Through the power of linking movement with breath, and the many tools that yoga offers Alex was able to gain personal space that translated to peace throughout her life. With that peace and love for yoga and 17 years of practice, Alex has found a passion to share and teach throughout the So-Cal area. We are delighted to have her as part of Team Align.
Alex Durham instructs the following:
This class is a general introduction to the basics of yoga poses, breath, and principles. You will learn the proper alignment of postures, breathing patterns, and how the postures can link together to create a flow. Perfect for those who are new to yoga practice, or those who wish to have a gentle practice. Non heated.




A flowing yoga practice combining breath with postures to build strength, flexibility, and coordination. This style of practice is suitable for all levels. Non Heated.