Amythyst Fritzler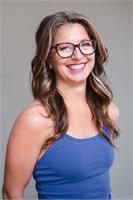 Pilates/GYROTONIC® certified/MA Dance Education
Amythyst Fritzler has been teaching Pilates since 2003. She was certified through Long Beach Dance Conditioning under the teachings of Marie Jośe-Bloom. Her first teaching position for two years was under a chiropractor, concentrating on Pilates and scoliosis. Since then she has worked under the direction of multiple Physical Therapists for pelvic floor, spine, and orthopedic conditions. In addition to her Pilates certification, Amythyst has taken specialty training in Pilates for pelvic floor conditioning and Breast Cancer survivors. Amythyst also became certified in GYROTONIC® (spring 2013). She is also a part-time professor of modern dance at Orange Coast College. She carries a Bachelor's in Dance, and a Master's of Arts in Dance Education both from California State University Long Beach. Her experience as a professional dancer, choreographer, professor, multiple discipline educator, gives her the experience of working with a diverse population. She is passionate, patient, and able to adjust to the needs of her clients at different stages of life and healing.
Amythyst Fritzler instructs the following:



A Pilates mat class for levels 1 and 2. This class will build upon the foundations of alignment, core function, and stability. Expect more progression and flow to up level the workout. This class is suitable to those who are beginning pilates, to taking their practice beyond the basics.