Cara Frazier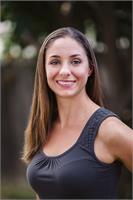 Owner/ Pilates Master Trainer
Cara was first introduced to Pilates as a dance major at Cal State University Long Beach under the esteemed tutelage of Karen Clippinger. She felt so inspired by the movement and the method of pilates that upon finishing her degree at CSULB she decided to became a Pilates instructor. In the summer of 2005 Cara completed her comprehensive teacher training through Body Arts and Science International (BASI) with a specialization in dance conditioning under Karen. As a new teacher she was fortunate to spend 8 years under the watchful eyes of two physical Therapists using pilates as a continuation of therapy as well as fitness. During that time Cara attended workshops and trainings to continue her education and further her practice focusing on spinal conditions, including 18 hours of scoliosis training with Jillian Hessel. In 2011 Cara decided to take her training to the next level and completed the intensive 3 part Mentor/Master program with BASI founder Rael Isacowitz. In 2012 Cara, with her dear friend Nicole, had the opportunity open her own studio, Align Pilates and Yoga, in San Juan Capistrano. Since then Cara has continued to mentor closely with Rael, and is excited to be a BASI Faculty member. Most recently Cara started her journey as an aerial yoga teacher, and received her level 1 15 hour training from Spectra Yoga. Cara brings her great love and knowledge of movement to everyone she works with and enjoys the process of seeing other teachers or students progress. Her calm yet deliberate energy will lead you through an appropriate work out, focusing on form and alignment. When she is not teaching at Align or BASI, she can be found enjoying the outdoors with her husband and two dogs.
Cara Frazier instructs the following:












An intermediate/advanced level group class on the Pilates equipment incorporating all apparatus to create a circuit workout. The jump board and small props may be used to add cardio to the circuit. Previous experience on all apparatus and a strong pilates practice is recommended before attending this class.